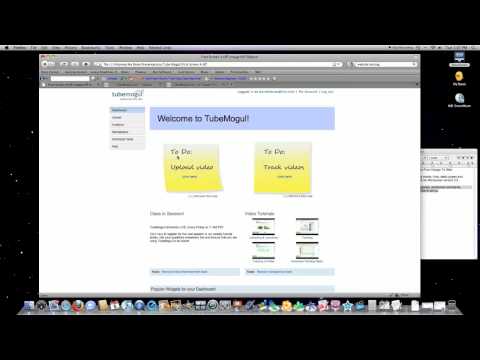 This article answers a question from a recent email. "…It's great that I can post to multiple social networks automatically … wouldn't be great if I could do the same with video?" Well if you missed the previous article, I explained how to automatically post your post's to multiple social networking sites.
There is a website that posts your video's to multiple sites as well. It's called Tube Mogul! Tube Mogul aggregates video-viewing data from multiple sources to give publishers an improved understanding of when, where and how often their videos are watched, track and compare what's hot and what's not, measure the impact of marketing campaigns, gather competitive intelligence, and share the data with colleagues or friends.
Tube Mogul sends your video's to the following sites:
How to Start Using Tube Mogul
To set up your account, go to Tube Mogul and sign up for an account.
After you login, you'll be shown a page with two sticky notes on it.
Click on Upload Video.
Click on browse and locate the video you want to post
Click upload
Enter a Title, Description and Keywords ( Tags )
Select a Category that your video corresponds to
Click Upload, at the bottom of the screen
Now enter Userids and Passwords for all of the accounts you want Tube Mogul to upload to
Enter your Facebook and Twitter information if you want to upload there as well
Click Launch and your done
I hope that helped people to better distribute their videos, for free and in seconds. If you have any questions, post them below.
Til next time…