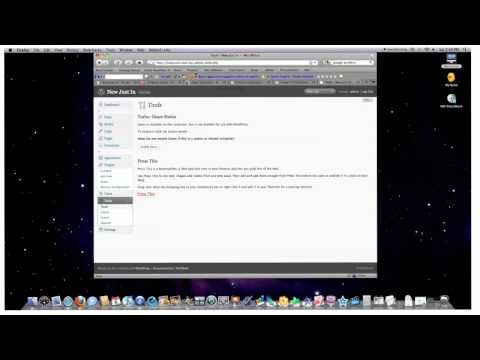 I was talking to someone yesterday about how quickly you can set up a website and fill it with content. I told him it takes me about an hour to:
Find a good domain name
Add at least 20 good, keyword filled articles
He couldn't believe it was possible. If you have watched my website videos on how to setup a blog or static website you know I'm telling the truth. The only thing I haven't covered at this point is where to get free content and how to quickly add that content to your blog. Here is a list of free content websites:
Now your thinking, but I have to cut and paste all of that information. That will take forever! Not with another nice WordPress tool called Press This!
Just open your WordPress Dashboard. If you don't have WordPress watch the video's here to set up your own blog. Ok, now your blog website is setup. Click on tools in your left sidebar. You'll see a description of a tool called Press This. Follow the directions on that page by right clicking on the link labeled Press This and bookmark the link in your favorites.
Now whenever you see an article you want to include on your blog:
Click on Press This in your bookmarks.
A window will pop up on your screen containing a link to the article.
If you selected the text in the article prior to clicking on Press This, you will see that text in the window as well.
Fill in any additional text into the article box.
Choose a category you want to associate with your new article, or create a new category.
Type in keywords that you would like to associate with the article, in the Post Tags box.
Finally, click on Save Draft or Publish.
It is just that easy to quickly add a great deal of content to your website. I hope that helps save you a ton of time. If you have any questions, comment below!
Til next time…