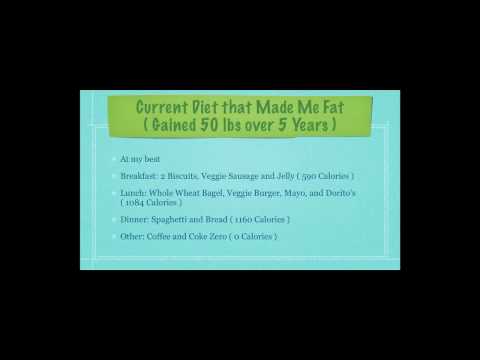 I got on the scale on October 20th and was shocked to see that I weighed almost 250 lbs. I weighed 248 lbs to be exact and I decided I was ready to lose weight now.
All the diet books I read were either too vague or proposed I go on a diet that was either very expensive, time consuming, or disgusting. I had lost weight in the past, but I knew I had done it in unhealthy ways. I decided to look at how my diet in college differed from my current diet first off.

The College Diet ( Lost about 40 lbs in 6 months )
My diet in college, when I was very seriously trying to lose weight, consisted of the following ( Do not do this ):
Breakfast : Coffee ( 0 Calories )
Lunch: 2 Cups of Rice, 2 Tbs Soy Sauce, Two Tbs Dijon Mustard ( 437 Calories )
Dinner: Fiber One Cereal, Baked Beans ( 280 Calories )
Other: Mt Dew and Beer ( 1020 Calories )
I ate these foods almost every day. Like I was saying, I was serious about losing weight, but I was disregarding health which at the age of 35, I'm more aware of.
The Current Diet that Made Me Fat ( Gained 50 lbs over 5 Years )
Over the last 5 years, most people thought I was a healthy eater. Mainly because I don't eat Beef or Pork. At my worst, I ate:
Breakfast: Scrambled Eggs with Cheese, 2 pieces of Bread and Jelly ( 845 Calories )
Lunch: Tuna Salad Sandwich and Doritos ( 1165 Calories )
Dinner: Normally Pasta with Cheese ( 1,040 calories )
At my best, I ate:
Breakfast: 2 Biscuits, Veggie Sausage and Jelly ( 590 Calories )
Lunch: Whole Wheat Bagel, Veggie Burger, Mayo, and Dorito's ( 1084 Calories )
Dinner: Spaghetti and Bread ( 1160 Calories )
Other: Coffee and Coke Zero ( 0 Calories )
These two common meals averaged out to 2944 calories. More importantly though:
I was eating 32% more calories than my body needed. I'm 6'3", with a large frame
I was eating 46% more fat than I should.
I was eating 3 times the recommended amount of sodium. Sodium causes heart attacks, strokes, kidney failure, etc. You, the reader, are also probably eating this much sodium.
I was eating 3 times the amount of recommended Cholesterol.
Nearly, twice the recommended amount of saturated fat.
My New Diet – Nutritional
What I Promise:
You will lose weight, on a consistent basis.
You will eat food that tastes better than what you are currently eating.
You will be eating healthier than you ever have.
You will not have to exercise.
You will be able to cook all meals in under 20 minutes.
You will spend less on food per month.
You will never be hungry.
I will detail everything in this series of articles. You will know exactly what to do every step of the way.
You won't need to buy vitamins, supplements, or anything at all.
What You Must Promise:
If you aren't willing to follow these rules, in my opinion, you should give up dieting forever. In exchange for looking like a million bucks, living longer, feeling healthier, and spending less you must:
Give up eating Beef and Pork, but not Chicken, Turkey and Fish.
Give up eating Fried Food, but I have healthy alternatives that taste like the food has been fried!
Give up eating cake, pie and sweets, but again I have very healthy alternatives, that will make you feel like your cheating, when you're not!
Does that sounds good to you? In the next article, I'll explain exactly how many calories you should eat in a day under the Diet Nutritional Plan….