This presentation contains tips that will dramatically increase your success on the phone. Some of the topics covered include:
If you find this article helpful, please click here [googleplusone] so more people can find this 🙂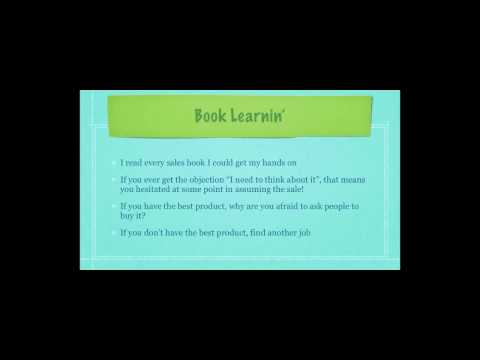 In 2001, I decided I wanted to be a stock broker. I had worked in research and development for Apple and in Marketing and I thought that being a stock broker would some how inform me on how the world really worked. I was right in some ways, wrong in others.
The only problem was that I was thrust into a situation in which my co-workers were used to potential clients who became ecstatic by calls from a local stock broker. The stock market had been on an improbable 20 year run in which everyone was making money. In 2001, that dream was about to end. I was given phone scripts that didn't work in a falling stock market. As I applied the belief that sales is a numbers game for many months I decided to throw out the scripts of this huge corporation and start a new. Sales is not a numbers game! If you call a thousand people with a bad script you will fail a thousand times. Sorry. In this article, I will do my best to equip you with many scripts that I found great success with.
I read over 100 of the best sales books and found that most weren't worth the paper they were printed on. I did however make one discovery. If you ever get the objection "I need to think about it", that means you hesitated at some point in assuming the sale! That might not sound like a great revelation, but it was the basis of how I became a successful telemarketer. (Sorry to shatter dreams, but all stock brokers are telemarketers)
If you have the best product, why are you afraid to ask people to buy it?
OK, I now know I have to always assume the sale. My new task was just to make sure I was selling the best product and then assuming the sale would be easy. If you don't believe you are selling the best product or service, the best thing you can do for your sales carrier is to quit your job and go work for the best. Believe me, you'll be happy that you did.
I discovered the yes-set, band-wagoning, favor for a favor, the following of authorities, the scarcity principle, the liking principle, the consistency principle, rapport building, etc. were all based off of something called NLP. Neuro-linguistic Programming is a branch of psychology created during the late 60's. I'll cover it in depth in a long series of future articles! So I read every book I could find on NLP and recreated my sales script based off of NLP. My results were amazing.
I'll show you the early scripts today. These scripts showed a 70 to 80% success rate. Also, I found that with a good script in hand I all but eliminated all of my phone anxity and started to love selling on the phone. Selling on the phone is not a Numbers Game, it's a Good Script + Practice Game.
Get a Reason for People to Meet you
If you want to dramatically increase your ability on the phone, figure out an iron clad reason why some one would want to talk to you. I discovered that senior's in my part of the country qualified for state programs, that would save them thousands of dollars, if they just filled out the paperwork properly. So I learned everything I could about those programs. It took me about a day! Do you think I was now comfortable assuming people would want to talk to me? Your right!
I'm Assuming the Sale, Because I have Great Skills Now What?
You need tons of practice ( Talk to 50 people per day )
Have answers to every objection on a script
Tape yourself ( Are you assuming the sale? )
Selling on the phone requires more aggression than in person selling!
If you get 3 definite NO's, you should move on, most of the time (Don't Annoy People)
Why Do People Hate Me?
At some point you will ask yourself this question, if you sell on the phone. You have to understand that 27% of people hang up on everyone. Even Publisher's Clearinghouse, when they call to tell people they just won a million dollars. The reason why is that as children we were taught to respond with a NO, when we are caught off guard. Think how often have you said NO vs. YES to a child?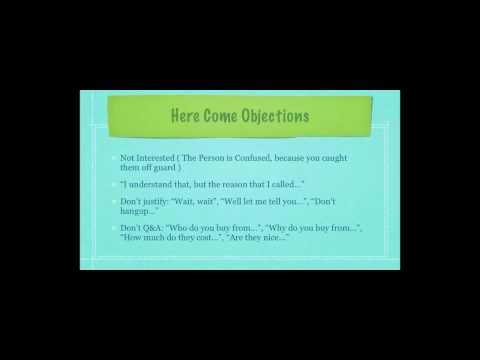 Ok, you know you have to assume the sale and you have the best product or service, so why would that be hard? Now what? You have only three new skills to develop.
Attitude
Acknowledge & Move On
Never ask for Their Permission ( Assume the Sale )
Attitude
The best sales people are constantly in control of their attitude. They are never to high or to low and they do their best to see the best in any situation, in others and themselves. If you ever feel a bad attitude coming on, you can use a psychology trick called "Changing your State." This simply means that by changing your body position you can change your mind state. So, if you are sitting at a desk, instead jump up and do some jumping jacks. Do whatever you have to, to keep yourself in a good attitude. Never stay around people with bad attitudes. And if you are an employer fire or just never hire anyone with a bad attitude, in your place of work. They are plagues upon your entire organization. In an upcoming article, I'll give you a quiz that will help you avoid bad employees.
Why am I dwelling on this whole attitude thing? The reason why, is that clients can sense your attitude on the phone. That is where the concept of smile and dial came from. People like to talk with happy and excited people. If you are not happy and excited to inform clients about your products and services, why would they ever buy them?
Phone Script for a Person that Returned a Request for Information
The following is a script I used with great success. I posted advertising in local papers and waited for people to return the mailers for additional information. This was the way I was able to get new people on the phone, even after the Do Not Call law was passed.
Me: "Hello, Paul?"
Customer: "Yes"
Me: "This is Derek Banas with ABC Insurance, How are you today, Pretty Good?"
Customer: "Yes"
Me: "Paul, I called because I received a request for information from you on ____, I put a packet together, and I'll be providing it on Tuesday at 1 or 6:30, which works better for you?"
What did I do here? First, I established what they call The Yes-Set. If you get someone to repeat the words yes, for little things, the chances that they will say yes for the big thing dramatically increases.
Why did I say, "How are you today, Pretty Good?" Because I want to stay in control of the call and keep the answers the word Yes, if at all possible. Does this work? Yes, 70 to 80% of the time, if you assume they will say yes.
Handling Objections from the Person that Requested Info
Customer: "Not Interested", They are Confused, because you caught them off guard. Just Acknowledge whatever they say and move on with the call.
Me: "I understand that, but the reason that I called…"
Don't justify yourself by saying:
"Wait, wait"
"Well let me tell you…"
"Don't hangup…"
Don't start asking them questions:
"Who do you buy from…"
"Why do you buy from…"
"How much do they cost…"
"Are they nice…"
Just acknowledge their objection, and then move on to the appointment or the sale.
Another Objection from The Mailer
Customer: I have all the ____ I need!"
Me: "I'm glad to hear that, but the reason why I called…"
Remember your calling because they requested information! At some point they decided they wanted to buy from you, so why not assume they want to buy today?
And Another Objection…
Customer: "I didn't mail anything to you!"
Me: "We'll let me check my information to make sure I'm talking to the right person" "Yes, this is Mr. Paul Jones?"
Customer: "Yes"
Me: "And you live at 123 Main St?"
Customer: "Yes"
Me: "Yes, and that is in Pittsburgh, PA?"
Customer: "Yes"
Me: "Yes, Paul I have the information you requested and I'll be …"
There are So Many Objections
Actually, there really aren't all that many. Here is a list of all the objections you will hear:
I'm not Interested
I have all the ___ I need
I don't have time
I don't have any money
Expletive
Hangup
That is everything you need to be prepared for. If you assume and control the conversation, you will never get any other objection. However, if you let the call turn into a Q & A session, you know you went wrong and now the customer is in charge.
Everyone Just Hangs Up, What Do I Do
Call them back. I know that sounds terrible and rude, but when I called I followed this script:
Me: "Hello, Paul were we disconnected or did you hang up?" ( 80% will say you were disconnected )
Me: "Great, the reason for my call…"
Wow, you must of got an ear full after you pulled that, I bet your thinking. Actually never. Normally people would compliment me on my sales skills. Also, because they hung up on me, most people will feel bad and hear me out. Just remember be persistent, but polite!
Does This Script Really Work?
Here are the results I got after teaching new trainees this script:
The average person that followed my scripts, made 1 appointment for every 10 conversations, during their first week!
The average person that followed my scripts, made 1 appointment for every 6 conversations, after 2 weeks experience!
In comparison, the average agent company wide made 1 appointment for every 20 conversations. That is including agents with 10 + years of experience.
What did the new trainees struggle with the most?
They had a problem making their first 5 to 10 calls.
They had a problem with waiting for customers answers. They would ask, "which works best 1 or 2:30" and then interrupt the customer before they answered. When you ask the customer a questions wait for the answer. Never say, "Are you there?"
They had a problem with asking for permission. They fell into a habit of saying, "is it ok, if we meet at 1 or 2:30?"
Your Phone Introduction
Must state name and company by law
It also is polite to state your name and company
Get excited and smile (Smile & Dial)
Some times it makes sense to sound like you don't care if you sell. (The customer may assume it really is a curticy call.)
Pace their voice patterns, but don't make it obvious. (Talk at the pace of the customer, while using their slang.)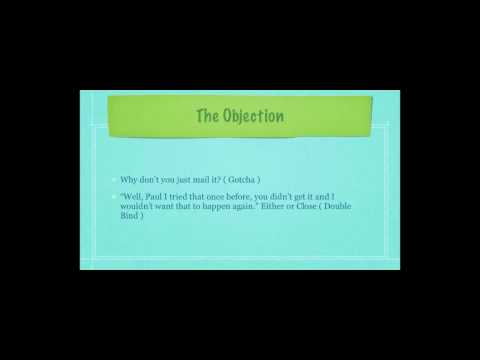 If your acting in their best interest, why ask if you can help? The number one problem, our new trainees had, was asking for permission. If you saw someone stuck on a train track, would you take the time to ask if they needed your help?
Don't ask "Would it be OK if we meet on Tuesday or Thursday…" If you ask for permission 98% will say NO!!! You must assume you will provide a better product or service than a competitor. If you don't believe your product is the best, your client will relize that as well. You must believe in yourself and your product or you will never meet your potential in sales.
If you find yourself in a Q & A session, you know you probably lost the sale or appointment. Avoid questions that don't have a YES or NO answer.
If your not sure you can help, why are you calling? Again if your company isn't the best, quit and go work for the best. Successful sales people don't ask for permission. From what I've seen, the difference between the best sales people I have worked with is that the best assume the client wants to buy or meet with them. It really is that simple!
Tips for Employers
All employees must have a phone on ear at a specific time. (If the calling session starts at 9am, everyone must be on the phone at 9am. No exceptions!)
On Desk: Script, Leads, Pen, Drink, and Phone ( That's it )
The phone should never leave the ear. You don't need to put the phone down, to hangup. ( Headsets are worth it! )
An auto-dialer and tracking system is worth it (Forces employees to remain on the phone and allows you to track what they are doing on the phone)
Keep a Scoreboard (It is the employers job to help the employee have fun!)
Never leave the desk before you get 1 appointment or sale! (Having to go to the bathroom is a very motivational tool!)
Don't book an appointment more than 3 days in advance
Me: "The reason for my call, is recently we mailed you some information regarding ___, you may have seen that right?"
Client: "No" (Don't worry about this No)
Me: "I understand, well let me check my information to make sure I'm talking to the right person." "Is this Mr. Paul Jones?…" (Continue as before, to get the 3 yes's)
Me: "Paul, I have that information for you, and I will be providing it on Tuesday and Wednesday this week, which works better for you?"
Client: "Why don't you just mail it?" ( Gotcha )
Me: "Well, Paul I tried that once before, you didn't get it and I wouldn't want that to happen again." Either or Close ( Double Bind )
Me: "Hello Bob?"
Client: "Yes"
Me: "Hi, This is Derek Banas from ABC Bank, How are you doing today, pretty good?"
Client: "Yes"
Me: "We have set up for you to be receiving our new 0% APR, No Fee, VISA Credit Card and I just need to verify your name is Paul Jones, Right?"
Client: "Yes"
Me: "And you live at 123 Main St. Right?"
Client: "Yes"
Me: "And that's in Pittsburgh, PA Right?"
Client: "Yes"
Debt Consolidation : "I'm Not Interested"
Me: "Well, I apologize if I was going to fast. Everyone I talk with wants to not pay interest on their credit cards Right?" (Assume they aren't interested because you were moving to fast, not because they don't want this great opportunity.)
Client: "Yes"
Me: "I forgot to tell you we will allow you to do exactly what you want!" (Consistency Principle) "We'll allow you to transfer all of your balances and not pay interest on those either. That would make you happy Right?"
Client: "Yes"
Me: "Yes, I just need to verify…" (Assume the sale)
Me: "Hello Paul?"
Client: "Yes"
Me: "Hi this is Derek Banas from Sports Magazine, How are you doing today, Pretty Good?"
Client: "Yes"
Me: "Yes, We called to verify some info to make sure we get your magazine to your house." (Consistency Principle)
Me: "Your name is Paul Jones Right?"
Client: "Yes"
Not Interested in Small Product
Me: "Oh, we understand you are looking to save some money Right?" (Make this sound like your giving up a bit)
Client: "Yes"
Me: "All our customers are like you. (Bandwagoning Principle) That's why we now are going to give you SM for 75 cents, instead of $1.15 an issue that you pay now! (Consistency Principle) I just need to verify…" (Assume the Sale)
Me: "Hi Mary Ann?
Client: "Yes"
Me: This is Derek Banas from ABC Insurance, How are you doing today Pretty Good?"
Client: "Yes"
Me: "Yes, Our customers like you have been saving a lot of money with us. Mary Ann, We want to apologize for not getting to you sooner (Sounds Like a curticy call), but we found a program that will save you money and next week I'll be meeting with your neighbors!" (Bandwagoning Principle)
Me: "Are you a morning or afternoon person?"
Client: "Afternoon"
Me: "Yes, We'll meet at 2pm on Tuesday or 5pm on Thursday, which works best for you?"
Getting Through the Gatekeeper
I hear this question more than any other. What you have to understand is that the secretaries job is to make sure their boss is made aware of good info while not wasting their time with bad info. If you leave a message, just give your name, number and then ask… "Hey, Ms. Secretary, everybody could use a smile. Could you draw a little smiley face on that note for Ms. Boss?"
The secretary will normally laugh and follow through by drawing the smiley face. Guess how many notes the boss gets with a smiley face on it? Why would the secretary draw a smiley face? Maybe because the boss should call this nice person? All I know is that we got a 38% increase in returned calls!
Three More Scripts that Got us Good Results with the Gatekeeper
"Mr. Secretary, I've been desperately trying to get in touch with Mr. Boss, for weeks. I could really use your help. What would you suggest I do to get a few minutes of his time?"
Who is calling? "I'm a salesperson, with xyz and I promise I'll just hound you until I can speak with Mr. Boss. Could you help me with that?"
What is this in reference to? "Well we are putting a personalized brochure for you and we were wondering what problems you would like to eliminate in your office? Except for sales people like me!"
A Few Tips that Will Get you on the Phone with a Decision Maker
If you sent Mrs. Boss a direct mail or letter, you have the right to say "They are expecting my call"
Call between 7am to 8am or 5:15pm to 7pm
Try calling a sub-supervisor, purchaser, or anyone with any decision making power under Mr. Boss
Voice Mail Messages to Use After Talking with a Sub-Supervisor
"Hi Mr. Boss, this is Derek Banas. I was talking to sub-supervisor, and I owe you this much. When you call me I'll fill you in."
"Hi Mr. Boss, this is Derek Banas. I was talking to sub-supervisor, and you were right. When you call me, we'll go over it."
"Hi Mr. Boss, this is Derek Banas. I appreciate what you have done. Please give me a call. I'd like to talk with you personally." ( Use after the boss wins an award or is recognized in anyway!)
I hope this article has helped you. These tips have made a lot of people tons of money and I wish the same for you. If you have any questions ask them in the comment form below.
Til next time…